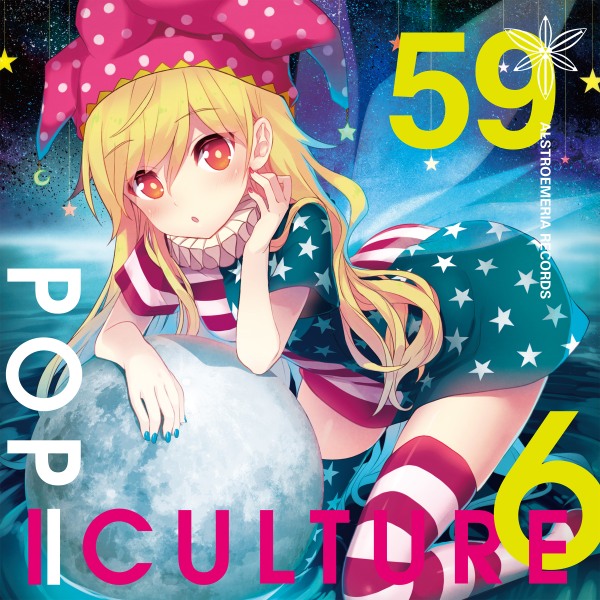 Current version: 6.0
Upgradable: Yes, from 2.0 upwards.
Overview: One of the most known circles established by Masayoshi Minoshima. Dance music touhou arranges (made by Masayoshi Minoshima, Nhato, Tsukasa, REDALiCE, Syrufit, t+pazolite etc) and charming female vocals by Mei Ayakura, mican*, Nachi Sakaue, nomico, 3L and many more — you can find it all here.
Official site
Links: lossless (mirror), lossy (mirror)
Changes: new albums.
[2003.12.30] The regret of stars, but stars shine bright. (C65)
[2004.08.15] against, perfect cherry blossom. (C66)
[2004.08.15] みんなの萌うた (C66) (mp3)
[2004.12.30] 東方幻樂編曲集第弐集 舞 -MAI- (C67)
[2005.05.04] 東方幻樂編曲集第参集 禅 -ZEN- (例大祭2)
[2005.08.14] genealogy|shrinemaiden (C68)
[2005.08.14] trace|phantasmagoria (C68)
[2005.12.30] A. aurantiaca (C69)
[2005.12.30] Lily of the Incas (C69)
[2005.12.30] stem of radiant (C69)
[2006.05.21] NITE VERSIONS (例大祭3)
[2006.08.13] BLUE NOTE (C70)
[2006.08.13] LAST MOMENT TO REMEMBER (C70)
[2006.08.13] STRINGS OF LIFE (C70)
[2006.12.31] The Garnet Star (C71)
[2006.12.31] りにあのうた2 (C71)
[2007.05.20] Lovelight (例大祭4)
[2007.05.20] The Last Judgement (例大祭4)
[2007.08.17] Circuit Breakers (C72)
[2007.08.17] Dolls (C72)
[2007.12.31] DANCEFLOOR COMBAT (C73)
[2007.12.31] Fly High (C73)
[2007.12.31] Harmony (C73)
[2008.05.25] Exserens – A selection of Alstroemeria Records (例大祭5)
[2008.08.16] For Your Pieces (C74)
[2008.08.23] Our Little Miracles (VOC@LOiD M@STER 3)
[2008.11.02] Signature – Selection of very superior old pale. (東方紅楼夢4)
[2008.12.29] Trois Noir (C75)
[2009.03.08] Aspherical Surface e.p. (例大祭6)
[2009.08.15] Fragment Reactions (C76)
[2009.10.11] The Brilliant Flowers (東方紅楼夢5)
[2009.12.30] Plastik World (C77)
[2010.03.14] Double Counterpoint (例大祭7)
[2010.08.14] of memories (C78)
[2010.12.30] Third Ensemble: Noir (C79)
[2011.03.13] EXSERENSES (例大祭8)
[2011.08.13] HAUNTED DANCEHALL (C80)
[2011.10.16] 紅楼夢7 会場限定CD (東方紅楼夢7)
[2011.12.30] KILLED DANCEHALL (C81)
[2012.05.27] ABANDONED DANCEHALL (例大祭9)
[2012.08.11] THE WORLD DESTINATION (C82)
[2012.12.30] DOMINATED DANCEHALL (C83)
[2013.05.26] DEGENERATE DANCEHALL (例大祭10)
[2013.08.12] POP | CULTURE (C84)
[2013.08.12] REBIRTH DANCEHALL (C84)
[2013.12.30] DECADE OF EXPOSE (C85)
[2014.05.11] CLOUD 9 (例大祭11)
[2014.05.11] THIS ISN/T BEST (例大祭11)
[2014.08.16] FLASHLIGHT (C86)
[2014.12.29] POP | CULTURE 2 (C87)
[2015.05.10] POP | CULTURE 3 (例大祭12)
[2015.08.14] POP | CULTURE 4 (C88)
[2015.10.18] ADAM -A DAY AFTER MOMENT- (秋季例大祭2)
[2015.12.30] CLOSE TOGETHER (C89)
[2015.12.30] POP | CULTURE 5 (C89)
[2016.05.08] ULTRA DANCEHALL (例大祭13)
[2016.08.13] ENGAGED DANCEHALL (C90)
[2016.10.16] SEED (秋季例大祭3)
[2016.12.29] IGNITION DANCEHALL (C91)
[2016.12.29] LOUD SPEAKER (C91)
[2016.12.29] Sol Et Luna (C91)
[2017.05.07] 10th Anniversary Bad Apple!! (例大祭14)
[2017.05.07] ayame – lumière ambrée: (例大祭14)
[2017.05.07] STRUCTURED DANCEHALL (例大祭14)
[2017.08.08] nachi – Nachtansicht (C92)
[2017.08.08] POP|CULTURE 6 (C92)
[2017.10.15] SIXFOLD (秋例大祭4)
[2017.12.29] ayame – CLOCK LOCK THINK (C93)
[2017.12.29] Bad Apple!! feat. nomico 10th Anniversary PHASE2 (C93)
[2017.12.29] nomico – μοναξιά (C93)
[2017.12.29] POP|CULTURE 7 (C93)
[2018.05.06] POP|CULTURE 8 (例大祭15)
[2018.08.10] 10th Anniversary Bad Apple!! feat. nomico PHASE 3 (C94)
[2018.08.10] ayame – BLACKLOTUS (C94)
[2018.08.10] POP|CULTURE 9 (C94)
[2018.08.10] POP|CULTURE 9 INSTRUMENTAL LIMITED (C94)
[2018.12.30] Eunomia – Alstroemeria Records 15years (C95)
[2018.12.30] FÄRGRIK – OWL. (C95)
[2018.12.30] SALVAGE DANCEHALL (C95)
[2018.12.30] SALVAGE DANCEHALL LIMITED INSTRUMENTAL (C95)
[2019.05.05] RESONATE DANCEHALL (例大祭16)
[2019.05.05] RESONATE DANCEHALL LIMITED INSTRUMENTAL (例大祭16)
[2019.08.12] FÄRGRIK – Fragile (C96)
[2019.08.12] OVERRIDE DANCEHALL (C96)
[2019.08.12] OVERRIDE DANCEHALL LIMITED INSTRUMENTAL (C96)
[2019.08.12] "PODIUM" EPISODE 01 -IN THE MIX- (C96)
[2019.12.31] ENCLOSED DANCEHALL (C97)
[2019.12.31] ENCLOSED DANCEHALL LIMITED INSTRUMENTAL (C97)
[2019.12.31] FÄRGRIK – COLLAGE (C97)
[2019.12.31] "PODIUM" EPISODE 02 -PROGRESSIVE- (C97)
[2020.03.22] "PODIUM" EPISODE 03 -RETROSPECTIVE- (例大祭17)
[2020.05.05] IMAGINARY JOURNEY (C98)
[2020.05.05] IMAGINARY JOURNEY LIMITED INSTRUMENTAL (C98)
Bonus

Alstroemeria Records — Time Flows.flac
Mei Ayakura — Struggle.flac